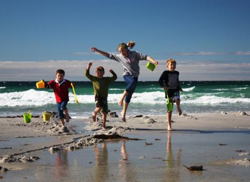 The Florida Keys has too much to offer to a vacationing families. When you think of a family vacation, what thoughts come to mind? Looking for family togetherness plus time to relax and leave the hassles of everyday life behind?If fun as a family is your goal with time for adult relaxation, seek out a kid's friendly vacation spot with attractions that appeal to both adults and children. An all water sports-inclusive resort is one of the best ways to bypass family vacation pitfalls. Such family-oriented resorts are designed to provide fun and excitement for children as well as time for adult pursuits. By staying at a Key Largo destination resort you'll find all amenities and recreational activities for kids and families in one location. Key Lime Sailing Club Resort , provides packages for family accommodations, amenities, recreational activities and parent/kids activities such as swimming, snorkeling, fishing, paddle-boating, swimming with the manatee right of the dock,sunset cruises, Sailing and kayaking- ALL FOR FREE!!!
Why is a Florida vacation so popular with families? There are probably as many reasons as the Florida beaches! The climate is warm year round, it is easy to get to, it offers good value for your money, there are
endless options for sightseeing and attractions for your family. Florida also happens to have some of the nicest beaches in the world. The waters are generally warm compared to the rest of the US. Surf temperature is also warmer on the Gulf coast since the west coast borders the Gulf of Mexico. The water here is warmer, as a rule, than the Atlantic waters on the east coast of Florida.
Average Annual Temperatures
Summer:
80.5 (F) degrees (26.9 C) (North Florida)
82.7 (F) degrees (28.2 C) (South Florida)
Winter:
53.0 (F) degrees (11.7 C) (North Florida)
68.5 (F) degrees (20.3 C) (South Florida)
Going on a family of five vacation? Are you looking to travel with more than one or two children? It can be frustrating finding a resort that has rooms which can accommodate 5 people because most hotels will only allow 4 people in a room, some only 3 people! Sometimes having two rooms is nice, but it can also be more costly and inconvenient, especially if the children are young. And even if you are not family of five, KEY LIME SAILING CLUB AND COTTAGES is a great family friendly resorts for everyone.